BioAustinCTX Welcomes New and Returning Members
SynthetiChem LLC
Jessica Momb
CMIT Solutions of Austin
Be a Part of the Newsletter
Send us your job postings, news, resources and events to share with the community.
Submit your information today to be a part of next month's newsletter.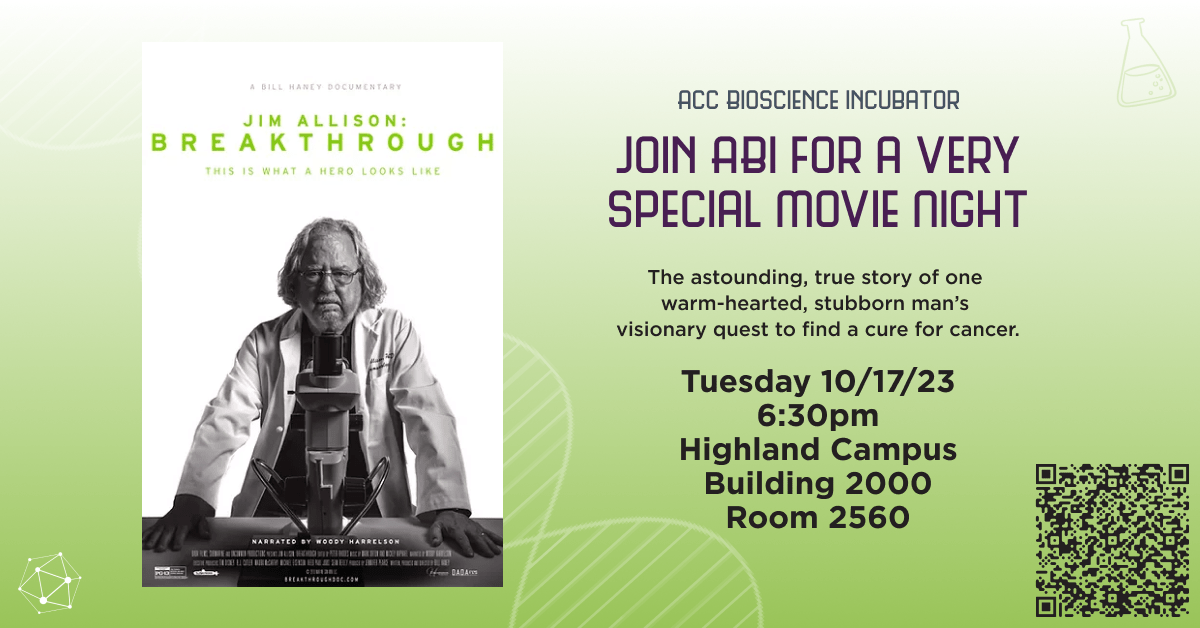 Join the ACC Bioscience Incubator for a screening of the award winning film about Nobel laureate, James Allison. The film is a chronicle from his childhood, his time at UT Austin, his perseverance through getting CAR-T therapy into the hands of cancer patients who are alive today to be included in the film. 


Save the Date
Our next BioBash will be on Tuesday, December 5 from 6 – 9pm at Tech 3443. Registration and more information will be coming soon.
Come see what the ACC Bioscience Incubator (ABI) has to offer to biotech startups. On Oct 5th, ABI will host a webinar where Nancy Lyon, the Director, will share with you all that you need to know about how ABI can help your company reach its next level including: leasing space at ABI, what types of equipment and instrumentation is available, and how to apply.
Early stage Medtech companies are expected to navigate the complex process of bringing an idea into reality, but very seldom do they have the expertise, experience, or resources to ensure success.
If you are founder faced with this dilemma, this is for you.
Project Medtech and our Network of industry thought leaders have organized an interactive event to help founders build a successful medical technology company.
Join the Austin Technology Incubator at The University of Texas at Austin and Austin Community College District at the EnergyTech for All Summit – an event dedicated to forging a more inclusive and sustainable future. The Summit will take place on November 2, 2023 at ACC Highland. The primary focus of the EnergyTech for All Summit is to generate opportunities for a wide range of innovators, particularly those who have historically been underrepresented within the EnergyTech sector. We're excited to gather idea people, diverse innovators, and visionary companies who share a commitment to serving underserved communities. Our summit's core themes encompass enhancing accessibility and affordability of energy technology, breaking down barriers that have marginalized certain groups. Expect enlightening talks, thought-provoking panel discussions, and dynamic speed mentoring. Let's come together to empower innovation and drive change in the EnergyTech landscape.
BioHouston and Rice Alliance will be hosting the 12th Annual Texas Life Science Forum on November 7, 2023 on the Rice University Campus. The Texas Life Science Forum, co-hosted by BioHouston and Rice Alliance, is the premier life science and healthtech event in Texas that brings together members from industry, emerging life science companies, academia and investors. Hear pitches from innovative and early stage life science companies, network and enjoy exciting panels, keynotes and speakers.

The Texas Healthcare & Bioscience Institute (THBI) is thrilled to welcome the Advanced Research Projects Agency for Health (ARPA-H) to the Lone Star State. This new U.S. Department of Health and Human Services (HHS) agency is a nationwide health innovation network that will support transformative biomedical and health breakthroughs. To learn more about them, visit their new website.

Visit Bio North Texas job board for available job posting in the North Texas region.
We equip underserved jobseekers with 21st-century skills and connect them to Digital Marketing careers across the US. With a focus on underserved communities, we amplify the online presence of small businesses, while launching the careers of jobseekers.
What if, there was a one-stop shop for candidates and companies looking for top medical device opportunities and talent, worldwide Increase your network with more than 150,000 medical device industry professionals to access exclusive top talent and list incredible jobs in the medical device industry. The job board will always be free to job seekers, and hiring companies will receive their first 90 days of unlimited job postings free.
Abbott
Aeglea Biotherapeutics
ALKU
AMDM IVD Job Board
Asuragen
Austin Technology Council (ATC) Jobs
Babylon Health
Black Diamond Networks
Commissioning Agents (CAI)
FDA Quality and Regulatory Consultants (FDAQRC)
Luminex
Molecular Templates
Nuclein
Skills Alliance
Syneos Health


TEXAS LIFE SCIENCE ORGANIZATIONS
THANKS TO OUR TMDA SPONSORS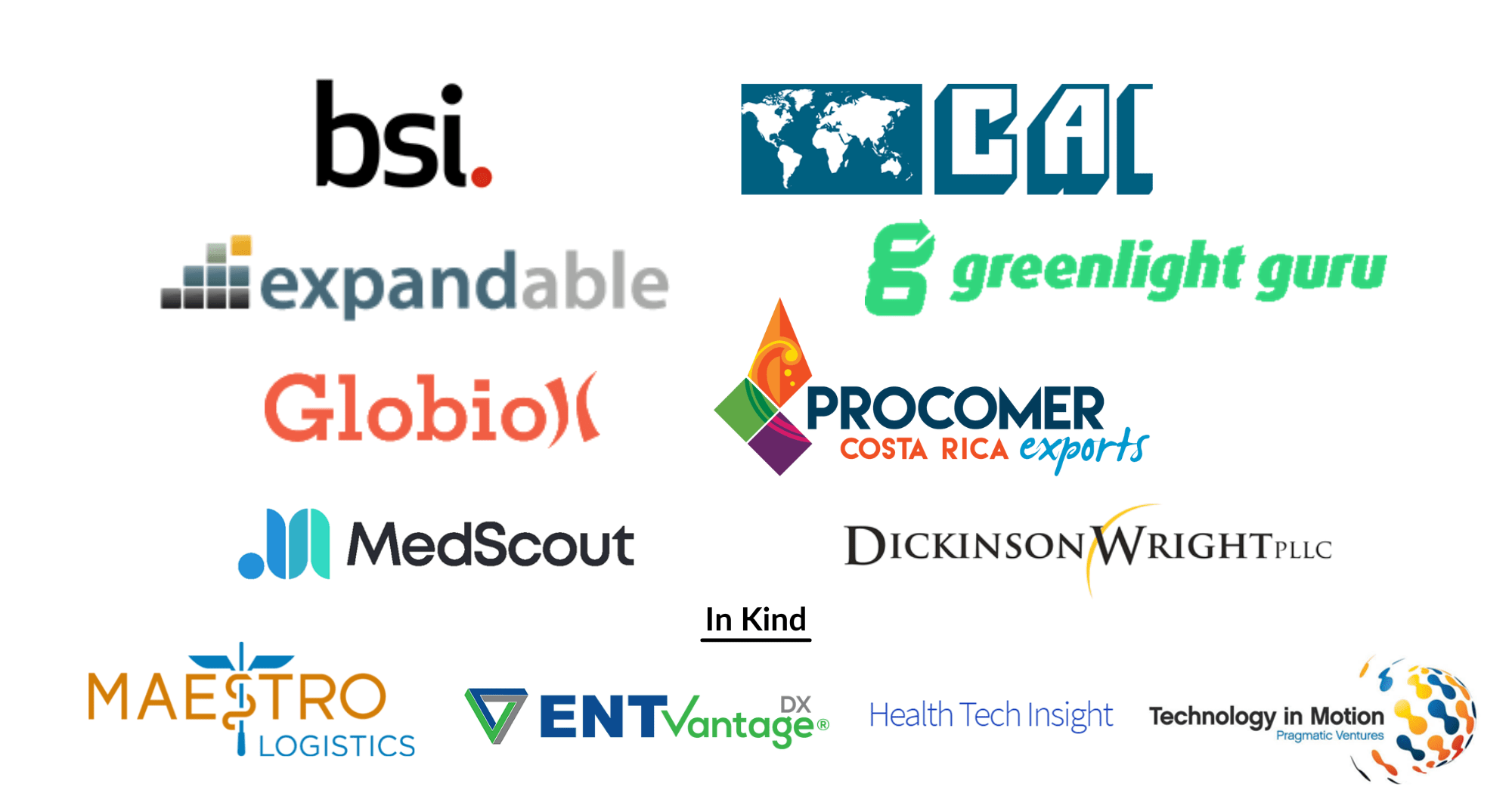 With warm regards,
Cathy Diehl, Gretchen Upton, Hector Torres, Hilary Graham, Joe Skraba, Kristin Whitson, Lance Anderson, Mea Amor, Ryan Baird, Scott Collins, and Tim Sullivan, on behalf of BioAustinCTX and Texas Medical Device Alliance (TMDA).